Ahoy fishermen and landlubbers, alike! Your ticket to open-sea adventure is calling! The Capt. Dave is shoving off, and you're all invited to join the fun. Whether you enjoy the sport of fishing or just need to get away from it all for a few hours, Captain Dave Dzielak can provide you with hours of entertainment on the open waters.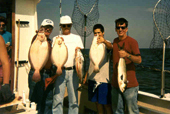 The Capt. Dave is a 50-foot, custom-built charter boat and comes with the latest electronic equipment. Our specialties range from exiciting sport fishing to relaxing cruises. We are U.S. Coast Guard-certified for up to 40 passengers, and we're committed to making sure that the trip is as enjoyable and safe as it can possibly be for you.
Feel free to check out our price lists or our fishing trips and chartered cruises. We also have a wide range of custom packages to better suit your needs. Contact Captain Dave to inquire.
When you want the best. Now in our 25th year!
---
Capt. Dave - 124 Main Street. - Sayreville, NJ 08872
Call 732.613.8307 to plan your adventure now!